Sakai Takayuki is known for being the top knife maker in Sakai, Japan and are one of the biggest manufacturers of Japanese knives around the world. The company is located in the samurai city of Sakai, which happens to be the birthplace of Japanese sword making and handcrafted Japanese cutlery since the 14th century.
Sakai knives are made from high carbon steel and forged using many of the same techniques used to make Japanese swords. The knives, which are known for its high quality, excellent edge-life, overall durability, and functionality are made by highly skilled craftsmen who apply special techniques during the manufacturing process.
Let's check some of Sakai Takayuki's 45-Layer Damascus knives below.
Sakai Takayuki 45-Layer Damascus Buffalo Tsuba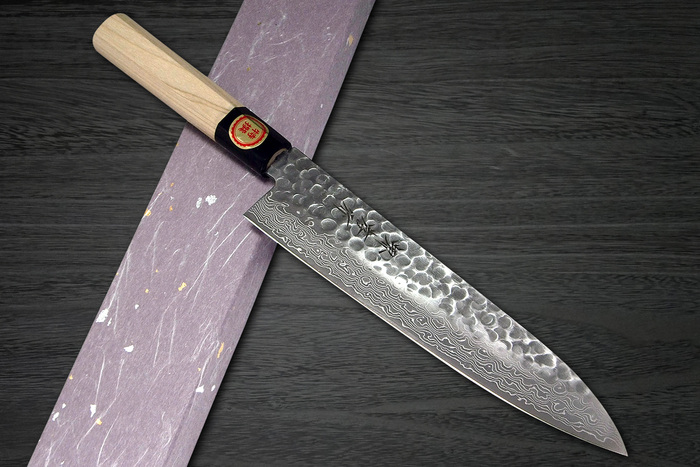 The 45-Layer Damascus Damascus Buffalo Tsuba line of knives by Sakai Takayuki are produced in limited quantities and are crafted out of 45-layer Damascus stainless steel with an AUS10 alloy core. AUS10 steel contains a high carbon percentage, approximately 1.05%, which makes these knives incredibly hard and easy to sharpen. Due to the fragility of these knives, a blend of nickel, manganese, and silicon is added to the AUS10 steel to improve the elasticity and ductility of the material.
These knives are also rust resistant and keeps a sharp edge well due to a combination of chrome, molybdenum, and vanadium which added to ensure the steel is corrosion resistant and better equipped to withstand everyday wear-and-tear. The handles on these knives are Half Rounded Octagonal Ho Wood (Magnolia) with a beautiful ferrule for professional use.
Sakai Takayuki 45-Layer Damascus Buffalo Tsuba Selections
Sakai Takayuki 45-Layer Damascus Indigo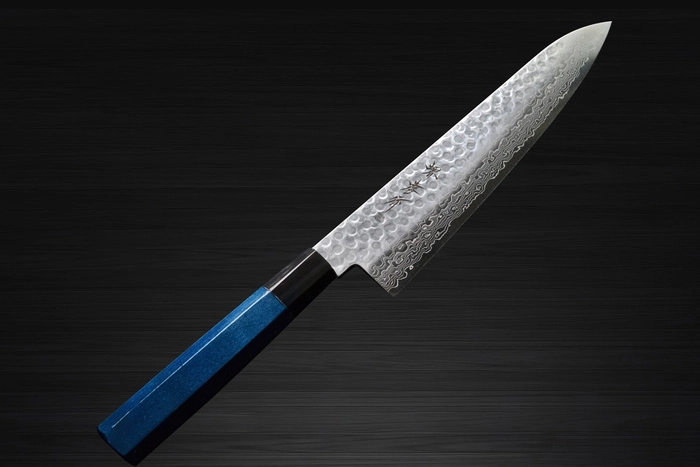 These knives are double-beveled. This beautiful "JAPAN BLUE" version is crafted out of 45 layers of Damascus steel with an AUS10 alloy core and features a beautiful, traditional Japanese indigo-dyed (Ai-zome) blue handle. Each blade is hand sharpened, and the exposed edges of these blades are the sharpest that can be manufactured. The Ai-zome blue colored handles on these knives are carefully dyed by skilled craftsmen who use traditional Japanese methods on half-rounded octagonal Hou wood.
The yield loss in the process to dye the wood is currently very high, which results in the blue saya being more expensive. The name "Japan Blue" was dubbed around 100 years ago in the Meiji era by Westerns who were visiting Japan. Today, the blue color is also reflected in the uniform of the Japanese national football team, and the color also represents the image of Japan.
Sakai Takayuki 45-Layer Damascus Indigo Selections
Sakai Takayuki 45-Layer Damascus Mirrored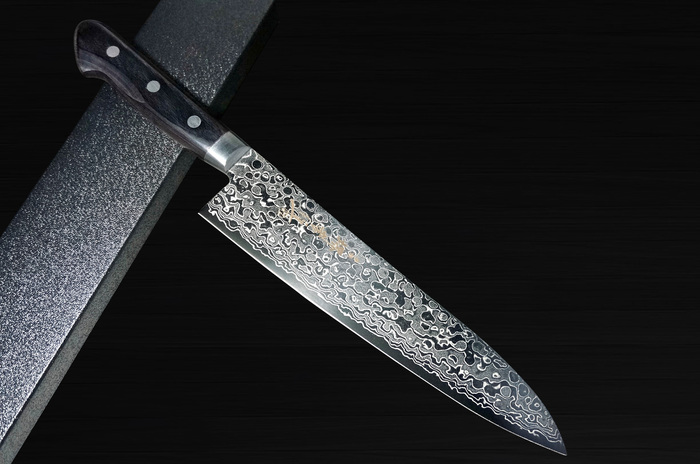 The 45-Layer Mirrored Damascus knives from Sakai Takayuki are made with AUS10 stainless steel, which is extremely durable, features good edge life, and is easy to sharpen. The knives feature an HRC of 59 and are clad with a 45-layer Damascus steel that is mirror polished, then etched to give a bright and foggy contrast between the steels.
Compared to Western handled knives, the 45-Layer Mirror Damascus knives are a touch lighter and the balance point is at the bolster. These knives are great for smaller detail work, as the edges are very thin. The handle is made from Plywood with Metal Tsuba (Stainless).
Sakai Takayuki 45-Layer Damascus Mirrored Selections
These knives are double edged and come in a wide range of models to suit different purposes. As with most Japanese knives, the blades are thin, so make sure to not twist the edge and don't cut and hit frozen foods or bones, otherwise the edges may chip.
These are another three line of knives made by Sakai Takayuki. They are exceptional in quality, design, and will make your cooking much more enjoyable. Try them today.